Storing Kids Art and Posters
13
May
Kids work really hard at school on their art work ….. and which parent is not proud of their kids' creations ?!
They create really cool pieces !!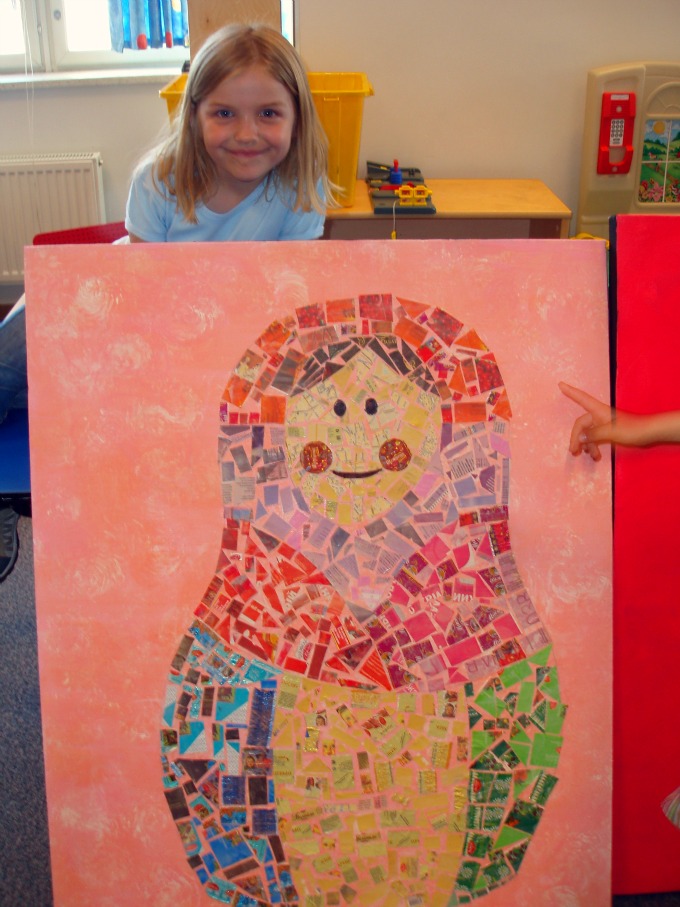 …AND THEN THEY BRING THEM HOME !!!!
Soon it will be the end of the school year and you will greet your kids on the last, or second last day of the school-year with huge, oversized art works that the teacher decided to keep in her studio UNTILL that last day ! Oh, what to do that day?? No cupboard in the house big enough to simply put away a PILE of art work safely untill the holiday rush is over. Art work is one of those papers you want to keep protected from spills and water and dust and to not get wrinkled…but those pieces usually don't fit into any sort of filing system I have seen before.
Well – you can frame some of them -Â like these 2 my son did when he was 6 and I thought it deserved a place on the wall.
His Russian bear – actually a wax medium …and kind of hard to tell from a picture behind glass….
And this was one as an impression of Picasso.
Framing some of their best pieces certainly gives a sense a value and worth to their efforts and does show the child that they can take pride in displaying their work – good enough for your walls. It does not need to be a real Picasso to make it up the wall ! 😉
Or this one my daughter did, same age – also loved it !
Oh, my future artists !!! Mommy is so proud. (and can not afford the real paintings anyway… , but don't tell !)
So, better back to storing it….let's  be honest – we don't have enough walls in the house to frame 15+ years of school art (for each of the 3 kids) that made its' way into the house.
Yes – it will be lovely and adorable and never-to-throw-away pieces with huge sentimental value of what your little Johnny or your  little Sarah could do when they were ONLY 6 !!!! And it would be a crime to not keep all that creativity somewhere safe.
The solution today – DIY ART FOLDERS. Nothing fancy, but highly functional !!
This can be  a fun, DIY project at home to keep the kids busy (in case you stay home this summer break)…. or maybe they can start doing it now already and you will have it ready when those pieces arrive home !
We did this last summer and I can't wait to just plop this year's pieces in there with the rest !!
Putting it together is real simple ! A ribbon glued onto the sides and bookbinding tape to hold the two pieces together at the bottom.
Bookbinding tape on the inside of the boards prevents the papers from falling through at the bottom. You can put the two boards flat next to each other and put the bookbinding tape centred to where they connect  – do it on the inside so your tape doesn't show…or like in this case, I used black tape, so you don't even notice at the bottom.
I found that polystyrene board worked best…poster board is obviously too soft and bendy…and hardboard makes it too heavy to carry by the ribbon/ tape or to store up high. The polystyrene is enough protection for the posters/ papers but lightweight at same time.
and VOILA – one done in no time at all !
While I made the folders, the kids started sorting their art, since we had all the way from First Steps to year 6 in one pile.
Not all the art would fit into one folder, so we sorted them into bundles of 3-4 years at a time and made several folders for each child.
Get out the paint, spray paint, stickers… whatever..to decorate with …..
and let the FUN part start !
Oooh – did I remember to mention that you need a HUGE big sail/ plastic to cover your beautiful wooden floors !…. and their oldest clothes?.
Each child can put their unique identity onto their folders. It becomes part of their ART !
…and while the paint dry, you can use the time to get some cleaning up going…..
I may have to warn you that this is the point where my kids tend to start to wander off and you find them elsewhere… like here…
or when you think you will take a picture of the final product…. you may find that you have misplaced your camera….which was in the room all the time…?? Strange how nobody knew at the time what happened to the camera?
While the kids drifted off, I made a folder for myself too, for some posters I had that I did not want to get damaged and some unframed art that I had to keep safe.
I decorated mine with some wall stickers that I had left over from before.
But mine was definitely not as creative and adorable as the designs some people came up with!
The nice part is that it is part of their creativity and art and will one day be a reminder of what they came up with design-wise. There is no right or wrong.
SInce the folders have hard sides, they can stand on their own…but with the precious decorations on them… I felt like storing them more safely. I bought this bag from IKEA. It is perfect to put all the folders in one place, protected from dust etc and with a handy carry-handle so you can carry all the folders in one go! You can find the bag at your nearest IKEA.
Hope you enjoy making some art folders.
Or do you have some ideas up your sleeve on how to deal with these huge pieces? Let me know how you stored yours?
For some of the pieces that are not so oversized and which did not make it onto the wall, I filed them in showcase A5- files and keep them a little more handy on top of the shelf to enjoy !
Keep creating little ones !!
Ilze
Ilze