Fabulous Find – notonthehighstreet.com
1
Jun
Today I would like to tell you about a great website that I love and I am sure you will too.
Okay -my secret is out !
I would have loved to just keep it to myself, so people can just always wonder where I find lovely things !
This is just one of those places where you can surely find great items.
But that just won't be fair to the founders of this wonderful web-business.
It was the brainchild of these gorgeous ladies…..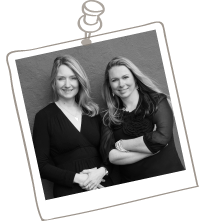 Holly Tucker and Sophie Cornish.
They started their business  in 2006 to bring together hundreds of creative small business into one online marketplace.
Their story, which you can also read on their website…as follows:
Hunting out the great and the original is second nature to founders Holly Tucker and Sophie Cornish, and it led them to have a sparkly idea back in 2006: to create a place where you could find all those charming, unique and carefully-made things that you sometimes stumble across in cool urban markets, village fairs and tucked-away boutiques. A place that was quick and easy to get to, where shopping was simple and fun, and where you could always find the most inspirational and wonderful things.
But that's not all. Every single one of them would be designed, made or selected by an independent small business. A creative and wonderfully talented small business whose passion for quality, innovation and style shone through in every little detail.
And so, for all the style seekers out there, notonthehighstreet.com was born.
You really need to go to their website to check out the hundreds of shops and the brilliant collection of vendors they host…as well as their blog.
I think they have done a superb job – and others think so too… their reward list is proof of that !
A few very cute items I spotted there today….
(london map picnic rug by just a joy | notonthehighstreet.com.)
(doodle tablecloth by stitch designworks | notonthehighstreet.com.)
('blom' paper flower by life's a party! | notonthehighstreet.com.)
(personalised oak chopping or carving board by the oak & rope company | notonthehighstreet.com.)
….. but it just won't do justice to all the fab shops and sellers if you don't visit them.
Go, go, go…..!!!!!
You will be happy with what you see and you can thank me afterwards !
Enjoy browsing and shopping…. but please come back here soon and tell me if you liked them !!
I would love to hear if you also consider it a Fabulous Find.
Ilze